About us
Orange Polska offers over 400 commercial and residential properties for sale all over Poland. Moreover, for rent - office, service, commercial and warehouse space in recognizable business locations.
The Orange properties are:
a wide selection of office, warehouse, technical buildings, investment plots, commercial premises, houses and plots of land;
the best addresses: attractive locations in the centers of voivodeship and poviat cities and in smaller towns;
investment potential: real estate for offices, services, hotels, logistics, dormitories and other development projects.
Where did the real estate on Orange offer come from?
The story begins ... in 1928 with the establishment of the state-owned enterprise Polska Poczta, Telegraf i Telefon, from which Telekomunikacja Polska S.A. was separated in the 1990s. Since 2012, the company has been operating under the international brand Orange. Early telecommunications technologies required large areas to maintain the technical equipment. Today, thanks to technological development, Orange can provide more advanced services using much smaller areas. In addition, the centralization of operations and the relocation of employees to larger facilities with higher labor standards have meant that many buildings are only partially used. Orange therefore offers real estate for sale that it does not use for its main business activities.
Who are we?
Competent - our team consists of people with experience in the real estate industry. We are always available to our clients - both before and after sale. For larger projects, we provide full conceptual support, we also conduct detailed consultations.
Open and transparent - we work with intermediaries on the basis of an open contract. We have proven rights to dispose of real estate and clearly defined terms of cooperation.
Reliable - the financial stability of the company guarantees that it meets its obligations.
What do we believe?
In new technologies. We invest the profit on the sold real estate in the development of telecommunications services, including in the expansion of the fiber optic network. We believe that thanks to this we contribute to building a digital society.
Meet Orange Sales Advisors
Our professional advisers will help you choose a real estate, rental offer or investment project. Write or call us to find out about the best Orange Real Estate offers.
Sales department
---
Rent department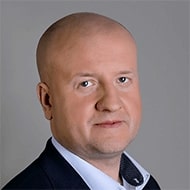 Piotr Kalinowski
800 300 400
Piotr.Kalinowski2@orange.com